When you think of Digital Image Correlation, you often think of industrial applications ranging from Boeing airplanes to NASA space shuttles or automotive testing, but what about something as common-place as running shoes? Adidas put digital image correlation to amazing use when creating their AlphaBounce sneakers, merging function, fashion, and physiology to enhance users' running experience.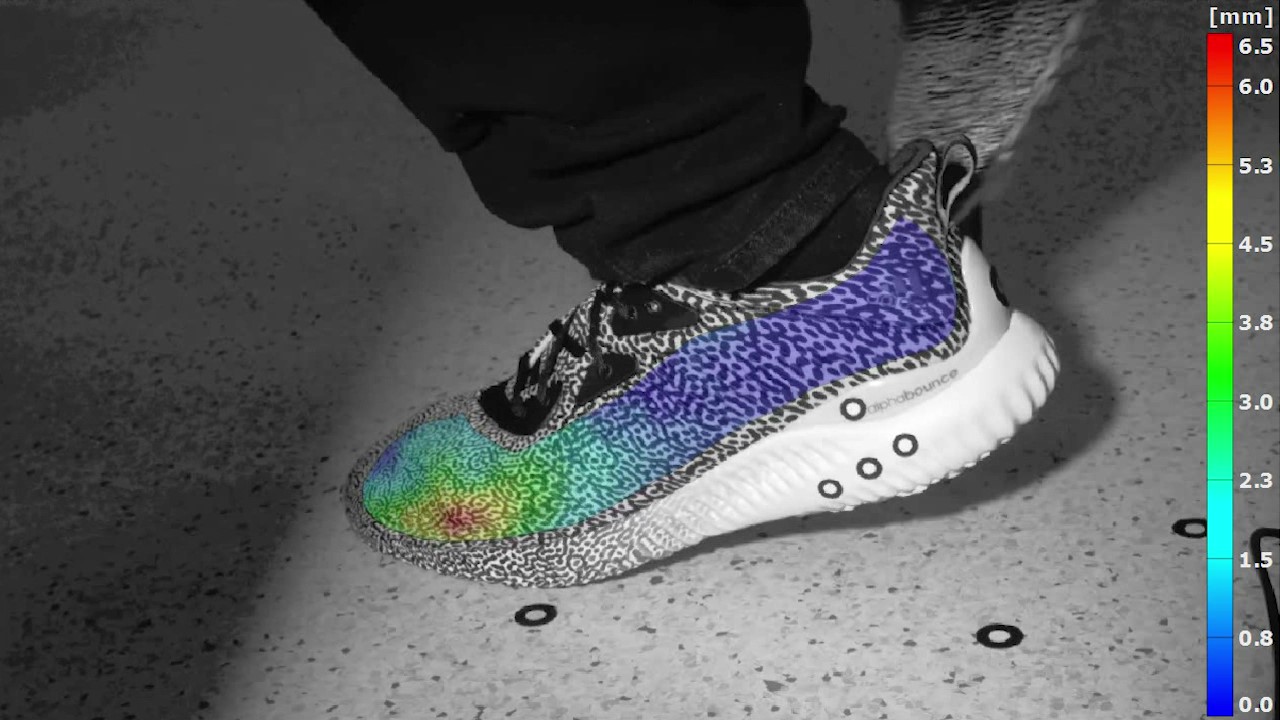 When thinking about the future of running shoes, Adidas decided to step out of design norms and analyze the strain and displacement of the human body while running. By utilizing ARAMIS, a digital image correlation system from GOM Metrology, Adidas engineers captured countless data points of the strike patterns from runners, creating a holistic understanding of a foot in use to guide their shoe design. By finding areas of high strain in a foot during movement, they created a shoe that optimizes comfort and allows for higher function, developing more flexible fabrics for increased performance.
ARAMIS combines high-speed cameras and flexion sensors, capturing 500 frames per second to analyze human physiology. Adidas employed the ARAMIS motion-capture systems from various angles as well, looking at strain and flex from sagittal, axial, and coronal views for holistic understanding of what would benefit athletes the most. They found physiological expansion of the foot in the metatarsal joint region, and their ample data from ARAMIS influenced the creation of more flexible fabrics to be used in this area to support runners, but also move with them instead of restricting natural, functional changes in a person's gate.
This innovative use of digital image correlation has elevated Adidas from other athletic companies, inspiring them to create the components of their shoes in-house instead of buying off-the-shelf materials. By understanding their product needs through the analysis of their biomechanical data, they've gone on to develop materials like ForgedMesh for the upper shoe materials and the Bounce midsole—the innovation that influenced the shoe's name for increased comfort and support.
The utilization of ARAMIS in the design of AlphaBounce running shoes was so influential in Adidas' process, they even incorporated the speckle pattern—which acts as the myriad of data points in ARAMIS motion-capture—into the final design of the shoe, celebrating fashion, function, and the science that brings them together.